As a Canadian, I am a man of the World. Indeed, you are unlikely to find a more global potato.

I have always found myself drawn towards these international athletic skirmishes. The Olympics. FIFA World Cup. The Canada Cup/World Cup of Hockey. The World Junior Championships. And yes...the World Baseball Classic.

When one thinks of the great Canadian moments in history, Paul Henderson's goal in the Summit Series with the USSR in '72 is one that stands out. "We all squeezed the stick, and we all pulled the trigger," crooned Gord Downie. Even if you weren't alive to witness it, as I was not, "Henderson has scored for Canada!(1)" is burned into the minds and the hearts of nearly every Canadian.

Foster Hewitt's legendary call was matched eight years later, when Al Michaels asked America and asked the world, "Do you believe in miracles?(2)" following the Miracle on Ice, wherein the United States upset the heavily favoured Soviet Union at the Lake Placid Olympics in 1980.

Though there is nothing so corrupt as FIFA and the International Olympic Committee, there is something inherently pure about these international competitions. These are not mercenaries, hired guns to win sporting competitions for whoever will pay them. They play for something greater than themselves. They are playing for their country.

And that sounds cliché, but I love that there are players who are playing not for money but for glory. They are playing for their folks. It is what we all loved about sports when we first become enraptured by them.

Americans are likely never to feel that level of connection to the WBC. Whereas the rest of the world sees players playing for the countries, Americans see their teams' investments at risk. And this is because Major League Baseball, Toronto Blue Jays not withstanding, is American. And Americans are attached to their teams, not to the countries their teams' players come from.

But as big a sports moment as the Cubs' (ironically named) World Series win was, it was not a unifying moment as the Miracle on Ice was for the United States, but a polarizing one, as pockets of America (Cleveland, St. Louis, etc) hated the victory, while Chicago exulted.

The World Baseball Classic may never produce a moment like Diego Maradona's Goal of the Century from the '86 World Cup. I don't know if the WBC will ever have that level of gravitas. Frankly, I am okay with that. It is baseball that has meaning, and so I was looking forward to watching some meaningful baseball.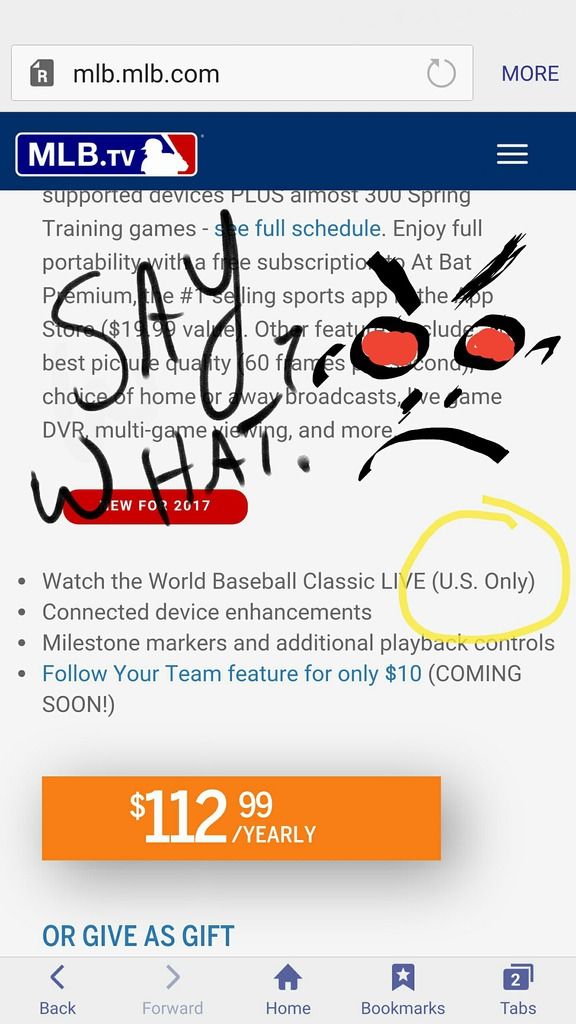 Well. Ain't that a daisy.

World Baseball Classic: ONLY IN AMERICA!

Here's a pro-tip. If you want to expand the game throughout the world, try to do your best to let people all around the world watch the @#$%ing games.

This is a new restriction, by the way. In the past, I have been able to watch the WBC. But for some reason (presumably TV deals), I cannot.

And I am displeased.

Will the World Baseball Classic ever really catch on? I doubt it. Team ownership and team fans will always look at the WBC as an unnecessary risk, I suspect. I wouldn't be surprised if the tournament went the way of the dodo in the not-too-distant future.

But until that time, I will watch the games when and where I can. I will cheer for Team Canada, even if the rest of my country does not. And I will hope for the United States to lose, even if you don't care.

Perhaps because you don't care.

Or perhaps just because that's what Canadians do. But that's another post for another time, and probably on another forum.