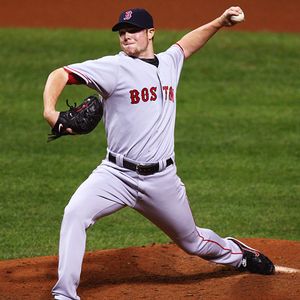 Yep. It's Jon Lester. I don't know if it's from his first game back or not. Doesn't matter.
Elsa/Getty Images
The significance of this game, as you'd imagine, is mostly emotional. The Sox didn't particularly need this game, and the 6-2 final score wasn't exactly misleading in terms of the flow of the contest itself. The Sox got 4 runs from Jake Westbrook in the 1st, and the Sox' pitching staff (including, of course, the aforementioned Lester) would prove more than capable of holding that lead, even as the Sox offense added two to the final tally.
But really. We're here to discuss Jon Lester. The date, July 23, 2007, represented the end of a journey that began in September of 2006.
You probably all remember hearing the news, the news that our talented young LHP, who won over the fanbase nearly as quickly as he won 7 games for the big league club in 2006, was diagnosed with non-Hodgkin's lymphoma. I doubt any Sox fan, or probably any baseball fan was left unmoved by this news.
Before I go on, I want to make a mention of Julian Tavarez here. J-Tav was nothing but complimentary of Lester, and constantly referred to himself as simply holding Lester's spot until he was ready. I thought it was pretty classy of Tavarez and <soapbox>, think the Sox should do the classy thing and trade Tavarez if he wants the opportunity to start elsewhere.</soapbox>
Back to Lester. I'm sure plenty of us were hoping he'd get the chance right out of Spring Training. The Sox chose the more conservative route, and Lester started 18 games at various MiL levels before getting his opportunity against the Clevelands at the end of July.
Six innings, six strikeouts, and a night full of emotion later, Jon Lester was right back in the swing of things, and the Sox and us fans were richer for it.
You all probably didn't need my hackneyed attempt at summarizing the emotional impact of this game to be happy that we still have Jon Lester. I certainly didn't.
Look for the next top moment on Monday. Also, for those Sox fans who are also Pats fans, enjoy the game. I will be.