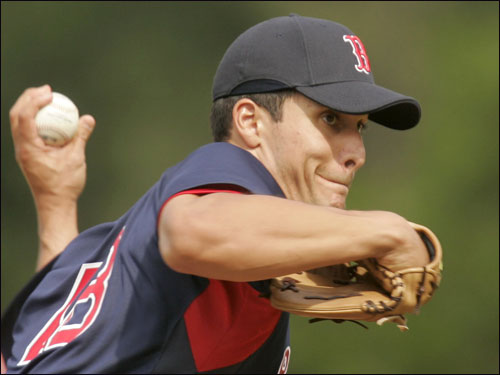 Javier Lopez: Will he find a slot in the Red Sox bullpen next spring?
The Sporting News recently ranked the Red Sox No. 2 in the American League for their bullpen. They list the members of the bullpen and why they slot in the No. 2 spot:
2. Boston Red Sox
RHP Jonathan Papelbon, LHP Hideki Okajima, RHP Mike Timlin, RHP Manny Delcarmen, RHP Julian Tavarez, RHP Kyle Snyder, LHP Javier Lopez
Depth helps the bullpen stay fresh; no one had to pitch more than 70 innings in '07. Okajima served as a great bridge to Papelbon. Opponents hit .183 against Delcarmen.
There's only one problem with his list:
Javier Lopez
. I'll be the first to say that Lopez makes our bullpen weaker, not stronger.
Lopez, the supposed "LOOGY" in the Sox bullpen, didn't quite fit that mold last season for the Red Sox. A LOOGY is supposed to be extremely effective versus left-handed batters. They're the pitchers who you bring in to get that one great left-handed smasher out late in the game. That wasn't the case.
Lopez appeared in 61 games for the Sox last season, amassing 40.2 total innings -- typical LOOGY stats. But his numbers against left-handed hitters were much less than impressive:

vs LHB
        AB      R       H       2B      HR      BB      SO      BA      OBP     SLG
        82      20      24      5       1       8       18      .293    .366    .805

That's not a LOOGY in my book.
Despite Terry Francona's reliance on Jonathan Papelbon and Hideki Okajima, Lopez was uneffective in the post-season as well:

 Year   Round Tm  Opp WLser  G   GS   ERA   W  L SV CG   IP   H   ER  BB  SO
+------+-----+---+---+-----+---+---+------+--+--+--+--+-----+---+---+---+---+
 2007   ALDS  BOS LAA     W   1   0   0.00  0  0  0  0   0.1   0   0   0   0 
        ALCS  BOS CLE     W   3   0  18.00  0  0  0  0   2     3   4   2   0 
        WS    BOS COL     W   1   0  undef  0  0  0  0   0     2   0   0   0 
+------+-----+---+---+-----+---+---+------+--+--+--+--+-----+---+---+---+---+
  3 Postseason Ser      3-0   5   0  15.43  0  0  0  0   2.1   5   4   2   0 
+--------------------+-----+---+---+------+--+--+--+--+-----+---+---+---+---+
Baseball-Reference.com


What can the Red Sox expect out of Lopez next season? Or, better yet, what do they
want
out of Lopez next year? If he's relied on as the LOOGY, it may not work based off his 2007 numbers. In his career (a career mostly in the National League) his numbers versus lefties aren't too bad: .257/.335/.359 in 343 at-bats.
But if they want to use him as a true reliever, pitching equally (and for complete innings) against both righties and lefties, it might work out better for them. Considering Lopez did post decent numbers overall last season with a 3.10 ERA, 1.32 WHIP and a .240 BAA. His numbers against righties were actually better than against left-handed batters. Go figure.
Lopez is going to prove worthless though if Francona continues to use Lopez in these "Get an out ... maybe get an out?" type of situations he's had him in. If a coach uses a reliever in specific roles, then that reliever needs to be great in that specific role. If that reliever is anything other than great, then it is a waste of a roster spot. Why have a reliever come in against lefties and not be able to get them out?
If Lopez is a member of the Red Sox bullpen next season then some things need to happen:
A) Lopez needs to be a true LOOGY and be effective against left-handed batters. Which I understand is hard to ask if he hasn't already done it, but...

OR

B) Francona needs to use Lopez as a true reliever, against both lefties and righties, and gauge his success in a bigger role. If he struggles, then it's obvious what needs to happen next. But if he has numbers similar to 2007 (with a larger sample size, of course) then he'll be a nice fit in the 'pen.
If neither of those things happen then we're stuck in the same situation with a pretty useless reliever in the bullpen. I'd rather see a pitcher like
Craig Hansen
gain some experience in the 6th and 7th innings than have Lopez sometimes get an out, sometimes pitch mop-up, etc.