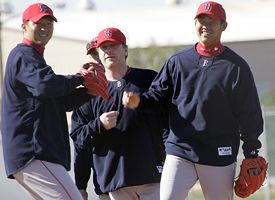 I encourage everyone to read this article, which chronicles many of the human factors Japanese players must overcome when they come to play ball in the States. The article also details some of the things that the Red Sox are doing to make Matsuzaka & Okajima feel comfortable.
"It's a combination of big things and little things. We hope we are touching the right bases."
-- Red Sox team president Larry Lucchino
It's fluff, but interesting fluff.