FRUSTRATION. Extreme frustration I am feeling right now.
A week ago Sunday, I had this idea for a blog post about the reasons Mookie Betts should or shouldn't be called up to the majors. But I couldn't get it written for Monday because the nature of my busy life affords me little opportunity for such things.
So then everybody and his brother writes an article on the same topic Monday. So much frustration about that.
Each day since I get a little closer, but getting worried that I'm running out of time. And yesterday, I did. Even greater frustration on that. But darn it, I'm publishing this anyway, because at least I can say I'm writing about "whether the Red Sox should have called up Mookie Betts" instead of "whether the Red Sox should call up Mookie Betts". And because I think I have something a little unique to add to the conversation.
Let's recap the other posts written on this topic. First, two early ones:
Two weeks ago on Monday the 16th, Evan Brunell of Bleacher Report said no, it's not time yet.
On Saturday the 21st, Tim Britton of the Providence Journal wrote what seems to be a "yes, the time may be now." It has a poll in which 74% of 170 voters agreed.
On Sunday, Rob Bradford of WEEI wrote "yes".
On Monday, Jose of Replacement Level Red Sox blog seemed to write both "yes" and "no".
Also on Monday, Joon Lee of Over The Monster wrote "no".
So there are the basic questions to answer:
Would there be room for Mookie?
Is he ready to come up?
Would it be bad for Mookie's development to bring him up now?
Would he make the team better? If so, would it make a difference?
Would there be room for Mookie?
Regarding whether there's room on the roster for Mookie, there appear to be 24 players on the active roster right now, and 39 on the 40-man roster, so that means there's one open space on both. Mookie could be added without kicking anyone off. It could mean an opportunity cost later when the Red Sox need to protect some other top prospect from the Rule 5 draft, but if he's ready to come up and help now, you don't hold him back for that reason.
Regarding whether there would be enough playing time for him, to me that all depends on Shane Victorino. If Victorino can return and play at the level he did last year, then he'll play the role of difference-maker that the Red Sox need, both an offensive spark at the top of the lineup, and a defensive weapon. It's exactly the kind of role Betts would be brought in to fill, and so Betts would find little playing time with Victorino on the . If Victorino were truly a day or so away, they should leave Betts where he is. But every time Victorino seems close to coming back, there is a setback. And he's had some poor results in the time he has played in the minors, and that's in A ball. I don't think we'll see Victorino contributing on the big league club soon. There's time for Betts to be more than just a brief call up, and when Victorino is truly ready to come back, Betts can be sent back down.
Is he ready to come up? Would it be bad for Mookie's development to bring him up now?
The only reason to have apprehension about this is that he's already advanced so fast. Before this year he hadn't played above single-A ball, so he may not be getting the proper time to adjust to the hightened level of competion. Then again, he was clearly not being challenged in single-A in the last month or two there. And he's held his rate of production in AAA, reaching base in all 22 games at that level. The only level-change that seems to have caused him a production drop was going from low A to high A (see charts below).
As mentioned in Alex Speier's article Friday, his coaches think he's excelled at resisting the urge to change his approach when changing levels, and they believe that's allowed him to maintain his production with level changes. That and a lack of holes in his swing, and an innate talent for pitch recognition. On the whole I think he ought to be able to handle the change quite well.
Looking at some other players who made similarly rapid progress through the minors is encouraging. Jacoby Ellsbury and Xander Bogaerts had rapid ascents, and yet managed to make positive impacts on the major league team right away. Dustin Pedroia took a month to get going, but then also made a big impact on the 2007 team. So doing well immediately after a quick ascent through the minors has precedent.
Would he make the team better? If so, would it make a difference?
I'll answer the second part first. Yes, it would make a difference. Look at all the very close games the Red Sox have played lately. Lots of low-scoring, well-pitched losses in which the Red Sox left a lot of guys on base. Just one more good hitter, just one more hit in any number of places in the game, and the Red Sox would have won a lot more games than they have to this point. I mean a LOT. So yes, one more bat would make a difference in the win column for the team.
So could Mookie be that bat? If he puts up the same numbers he's been putting up in the minors, he would be.
But will he do that? And who would he replace?
Here's where it gets interesting. First, I wouldn't have the Red Sox do what many assume is the logical move, which is to replace Jackie Bradley Jr. with Betts in center field. Even though Bradley's bat has been atrocious on the year as a whole, we must note that his production since being given two days off on June 9 and 10 has been up, and is approaching league averages at .244/.320/.333 (okay, the power is still rather low). We should also note that his defense has made up for his offense, as he has an overall 0.7 WAR. If he can get up to league averages in BA and OBP, and knowing the kind of student of the game that Bradley is, there is reason to believe he will, then the Sox will keep him right where he is because his defense is such an asset, both for his range and for his arm.
So who does Betts displace? I say Gomes, mostly (I also think he'd be a great option for giving an occasional and much-needed day off to both Pedroia and Ortiz, but I'm basically seeing Betts turn Gomes into a bench player). I hate to say so, because I really like Gomes, but he doesn't bring much advantage either offensively or defensively, except in that he plays the Monster well. His overall line is .232/.333/.360, which isn't much different than what Bradley has done lately. That's been dragged down some by the absence of his platoon partner Daniel Nava, causing him to have nearly as many plate appearances against righties as against lefties; now that Nava is "back", he's seeing fewer at bats against righties, which is bound to help his overall averages given his strong platoon split:
.159/.245/.268 in 94 PA against RHP,
.310/.417/.452 in 103 PA against LHP.
What is Mookie Bett's platoon split like this year?
.308/.406/.485 in 234 PA against RHP,
.415/.496/.585 in 125 PA against LHP.
Wow, the weaker half of Betts' platoon split is as good as the stronger half of Gomes'. But will that hold up in the majors?
As mentioned in Replacement Level Red Sox blog, Steamer projects http://steamerprojections.com/blog/ Betts as follows:
.278/.339/.407
I am projecting as follows:
.325/.415/.470
Big difference. My numbers are basically a regressed version of his minor league numbers. I don't know how Steamer finds out it's projections.
If we assume a 10% temporary dropoff upon his arrival in the majors, by my numbers he'll be at .287/.373/.423, which are above-average numbers, and well above Gomes. Even in a pessimistic outlook, Betts will be a significant improvement over Gomes; in an optimistic outlook, he'll provide an outstanding all-around bat, and even better as the right-handed part of a platoon with Nava.
That's offensively. Defensively, Betts has great athleticism and should before long prove the better defensive outfielder than either Gomes or Nava.
My hope is that he gets used mostly as a Gomes replacement, but as I mentioned also occasionally spelling Bradley Jr. and Ortiz, especially against a tough lefty, and also once in a while to give Pedroia, who plays entirely too often, a rest. Pierzynski is usually used to rest Ortiz, but that usually happens against left-handed pitchers, and I'll take Betts righty-on-lefty over Pierzynski lefty-on-lefty anyday.
Geeky stuff
The rest is all the geeky stuff I did to come up with my projections. If you are not into the math, you can just stop reading now.
I broke Betts' 2013 and 2014 numbers into roughly 18-game blocks, as follows:
| | | | | | |
| --- | --- | --- | --- | --- | --- |
| Game group | G | PA | BA | OBP | SLG |
| low-A 1 | 19 | 83 | 0.172 | 0.349 | 0.313 |
| low-A 2 | 19 | 87 | 0.348 | 0.471 | 0.652 |
| low-A 3 | 19 | 87 | 0.315 | 0.402 | 0.521 |
| low-A 4 | 19 | 83 | 0.338 | 0.434 | 0.408 |
| high-A 1 | 17 | 66 | 0.230 | 0.258 | 0.426 |
| high-A 2 | 17 | 75 | 0.333 | 0.440 | 0.492 |
| high-A 3 | 17 | 70 | 0.459 | 0.529 | 0.738 |
| AA 1 | 18 | 88 | 0.418 | 0.455 | 0.658 |
| AA 2 | 18 | 85 | 0.366 | 0.471 | 0.549 |
| AA 3 | 18 | 80 | 0.266 | 0.400 | 0.422 |
| AAA 1 | 18 | 82 | 0.319 | 0.402 | 0.472 |
Then I applied a method that attempts to determine what his likely on-base percentage could have been expected to be in each of those blocks, given his actual numbers and what the distribution of OBP's among all players looks like.
The basic idea is based on the fact that just because something has, say, a 40% chance of happening each time you try it, it doesn't mean that it will actually happen 40% of the time. For one thing, if you try it only one time, then it will happen either 0% of the time or 100% of the time. If you try it 9 times, the closest you can get to it happening 40% of the time is if it happens either 3 or 4 times out of the 9, which are 33.3% and 44.4% of the time, respectively. Even when you try it 10 times, that doesn't mean you'll get success exactly 4 times. In fact, binomial theory says there's only a 25% chance that it happens 4 times out of the 10, even though there's a 40% chance of it happening each time. The formula that says that is

This translates to on-base percentage because each plate appearance represents a time you tried to do something (get on base), and the number of times you get on base is the number of times the thing you tried to do actually happened. The ratio of these two numbers is the on-base percentage. Someone who has been getting on base at a high rate has probably benefitted from some of the randomness I described above. So, for example, someone with a .500 on-base percentage may only have had a .400 (40%) chance of reaching base in each plate appearance, and just "gotten a little lucky".
By turning this math on its head, we can determine from the actual results (a player got on base 5 times in 10 tries) what that player's chances of getting on base through that stretch likely were. In doing so, we must assume a general relative likelihood of each possible value for chance of reaching base. For example, because an average OBP is around .330, we can assume that it's pretty common to have players with a 33% chance of reaching base through a stretch of plate appearances. It's unheard of, however, for a player to have an 99% chance of reaching base through a stretch of plate appearances. So 33% is a much more likely probability than is 99%.
How much more likely? To decide this, I used monthly splits for all players with 60 PA or more over the month, for all major-league players from 2010 through 2013. I counted up the number of results at each OBP level. These results are the red bars in the bar chart below.
The blue bars represent a formula I fit to these data, in the form
I'll be creating a blog post later on my baseball blog Tomisphere on Baseball about why I used this form, but suffice it to say for now that I got that k=23 and N=67.
All of this is applied in the chart below.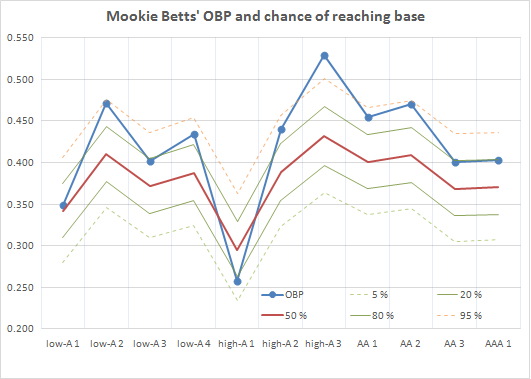 The dark blue line with circle markers is his actual OBP in each group of games. The bold red line with no markers represents where his likely expected OBP was, that is to say there's a 50% chance that his chance of getting on base each time at bat was higher than this, and a 50% chance that his chance of getting on base each time at bat was lower than this.
The lines that run parallel to this one, above and below it, are the same thing but with different percentages. The faded solid line below it has a 20% chance of his chance of getting on base (which I'll call "expected OBP" from here out) below it, and an 80% chance his expected OBP is above it. The faded dashed line below that is the 5%/95% line; the faded solid line above all these is the 80%/20% line; and the faded dashed line at the top is the 95%/5% line.
As you can see, Mookie's numbers regress down in most cases. That'll be the case for any above-average player. It would be more appropriate to use a higher distribution in these calculations for an above-average player. But how much higher? There may have been a bit more art than science in this, but I ended up settling on k=26 and N=67 as appropriate for Betts. The results are as follows: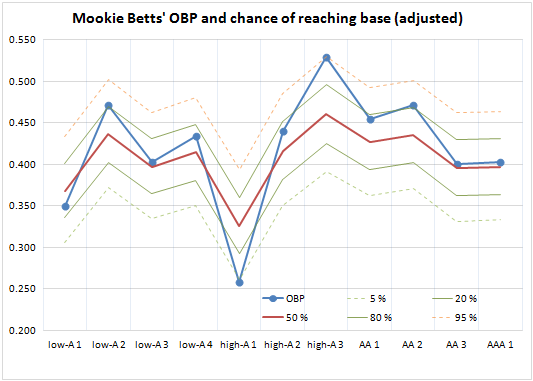 Without getting into the details of my analysis of this chart, this is where I got my projections of OBP from. BA and SLG were a bit more artful, looking at the first chart above in this article.