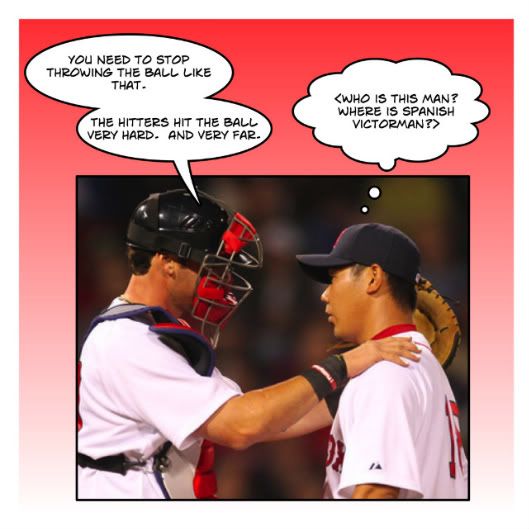 I know that now...is not the time to panic. But, is it soon? Cuz, brother, I am @#$%ing ready to panic. I'm there. I'm a racehorse at the gate. Ring the bell and get outta my way, because I am really feelin' like I could panic.



But, because of the 2001 Oakland A's, I don't have to panic yet. Yeah! Because, in the year 2001, the Oakland Athletics, they started the year like 2 and 11. And they finished with a million wins.
Nnnnnnnnnnnnnnnnnnnnngggggggggggggggggggggggggggggggggg.
I NEED VICTORIES! Oh, man, this is hell. I can't handle it. I mean, I know that teams, even great teams go through slumps. Big slumps. Nasty slumps! And, I mean, I know that a slump in April counts as much in the standings as a slump in August. But I just want to win. I want to feel like we can win.
And...and that's it, isn't it? We don't actually know that we are capable of winning anything yet! (I seriously just figured that out right now while I was typing.) If this was a 2 and 9 stretch in July, we'd shrug it off. Because all teams go through slumps, and we'll come back with another hot stretch to even it all out. Because, we already know this is a great team. On account of all those other times they've won so far in the season.
The fact that we are only 5 games back with one hundred fifty-one games left to play doesn't seem to matter a lick because we haven't seen our team win. The super team doesn't look super.
Yet.

And then it rained all night

And washed the filth away.
~ Thom Yorke
Goddamn I was happy when I saw that the ballgame was rained out yesterday. I was shocked at the feeling, to be honest. It felt like the bell at the end of a round when I had just spent the last ninety seconds absorbing shots to the ribs.
BING!
OH, THANK GOD.
The rain that soaked Fenway is falling in Nova Scotia now. It feels cleansing. It feels refreshing. It feels revitalizing.
Wash the filth away. Wash the shit away.
Whatever is gummin' up the works, man, rinse it out.
Just needed a little break. Just needed a second to catch our breath. Just needed a second to clear our head. Just...gotta refocus, man, that's all.
Now. Let's try this again.