I log in to my Twitter feed about 30 minutes ago and see the following: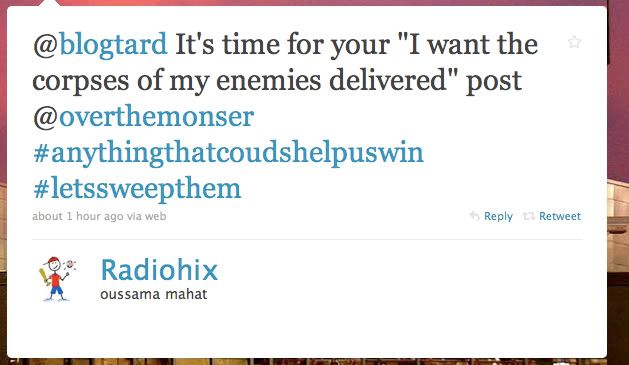 And you know what, 'Hix? Right you are, my friend. Right you are.
Cuz ya know what? I'm sick of this crap. This...middling.
I'm sick of being an also-ran. I want asses kicked. That's what I want. That's what I require. And it is what I demand.
I want the corpses of my enemies laid at my feet.
I want their heads on pikes. I want their women shunned and their horses punched out. I want Dustin Pedroia to wrap one of his crutches around someone's head. I want cowbells knocked out of people's hands by foul balls. I want Adrian Beltre to go first-to-third...via the left fielder's ribcage. I want John Lackey to say, "I'm sorry I have displeased you, Bloggy, but here is where I make you proud of me." I want someone powerbombed in short right.
I want more than a sweep. I want carnage. I want this for years to come to be known as "That Series in Tampa". I want the three (3) Rays fans that exist to remember this as "the time the Sox came to town". I want a special on The History Channel narrated by James Earl Jones shot entirely in black and white that chronicles The Day. I want it to be so bad that they have a telethon to raise money for the victims. I want someone in Florida to be a widow of Game 129.
And another for Game 131.
I DEMAND THE CORPSES OF MY ENEMIES AT MY FEET.
I will be satisfied with no less. Time to wreck shop, boys.