Hi. So I guess the first thing that I should mention is that the trade deadline for our fantasy pool wasn't Sunday past, but rather it is Sunday, August 29th. Breathe easy, lemon squeezies.
Work and play (but mostly work) has prevented me from providing these wonderful little updates for you all, but believe or not, Oliver Sudden, there's only three weeks left in regular season play! Hard to believe. Here's what's happened over the past three weeks: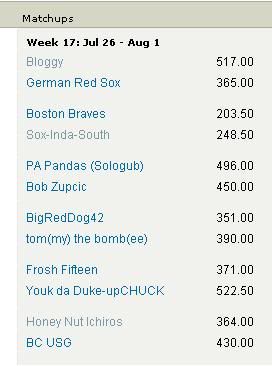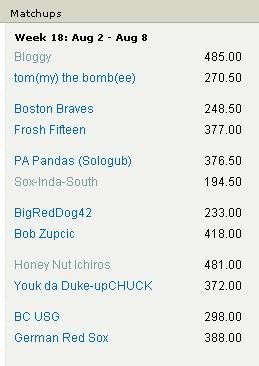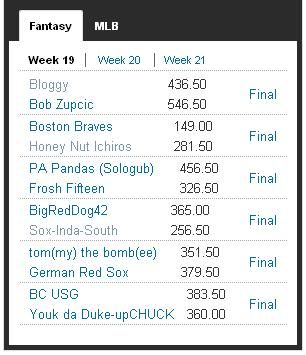 As you can see, I came up short this week. I wasn't helped by some pretty shoddy managing on my part (forgetting to set my lineups for at least one day) and the fact that my closer decided to beat the piss out of his father-in-law. Also kinda crappy was that on Sunday previous to this week I had Halladay, Lilly and one other guy starting when I already had the week well in hand, as you can see. It would have been rally beneficial to have had those points on Monday instead. But, BobZed had a monster week, what're ya gonna do?
The only thing I'd like to point out about Week 17 is that I completely wrecked shop on That German Guy. Boooooo-yaaaaaaaaaaaaaa, baby!
So, here's the standings with three weeks to go: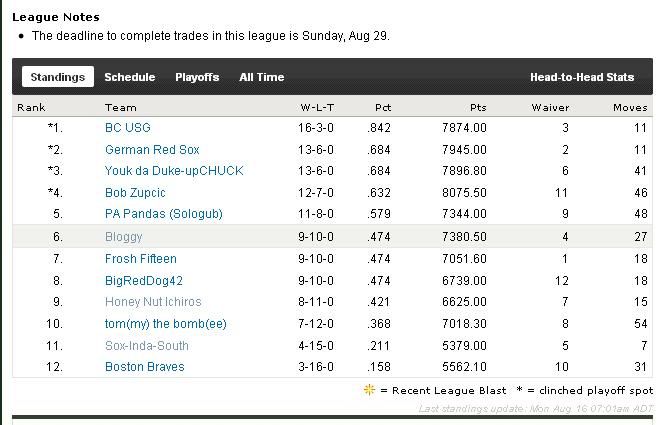 As you can see, USG, The Afore-mentioned German, UpChuck, and Bob are all playoff locks. Leaving two spots to be filled. If it were to end today, your hero is in based on overall point totals, having more than CrabChowdah despite our identical W-L record.
So, it's crunch time, boys and girls. Time to separate the players from the pretenders. And Week 20 looks good for the guy who pretends to be a potato: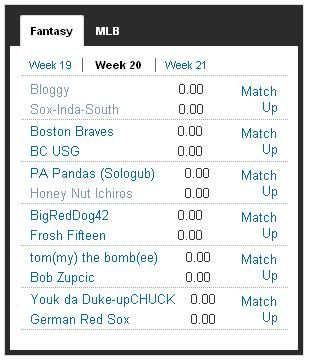 The Big Red Dog and Frosh Fifteen (Crab Chowdah) face off against each other, guaranteeing a loss for won of them, whereas your hero faces off against Sox-Inda-South, which is as close to gimme as there is. I HOPE YOU LIKE PAIN, BOY!
EPILOGUE: I can't believe two people besides myself voted that I was gonna win this pool. Y'all are drinkin' wacky water.