Well, crap.
Much like your Boston Red Sox, ever since the All Star Game, your hero has been slumping and slumping bad. And, just like your Boston Red Sox, in heartbreaking fashion. Trailing The Big Red Dog by a measly point going into yesterday's action, I was unable to pull out the victory, losing by 9.5.
The blame for this falls partially on Mother Nature, as one of my Sunday starters, Jeff Francis, seemed to be doing just fine...but then came the rains. In the 5th inning. Just shy of a quality start. And, as it turns out, a win.
The other part of the blame is the manager going on vacation in Cape Breton and leaving Ted Lilly and his 22 juicy points sitting on the bench on Wednesday. Mind you, I also left Clay and his -6 points on the bench...but still.
I guess what I'm saying is....YOU'RE @#$%ING LUCKY, DOG!
Ahem. Yes, so. Here's how things ended up for Week 16: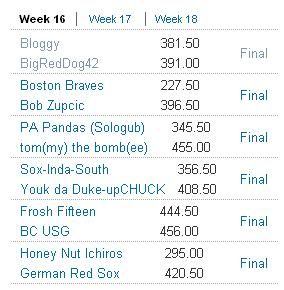 And so, at the end of 16 weeks, our standings sit as follows: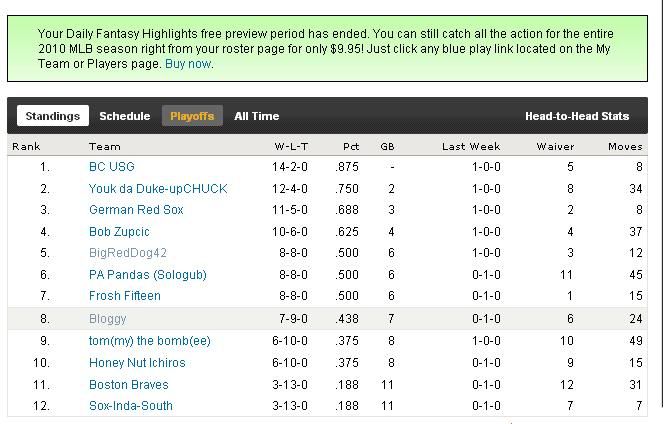 Jeeeeeeeeeeeeeeeeeez, that USG is good.
I'm now two games under .500 and 7GB. @#$%. I wish these standings had a "streak" column. You know, won two, lost 7. I can't remember if I've lost two in a row or three. Whatever...it stops now! Which means...I must defeat the German. With Morneau and Manny currently riding the pine and Orlando Hudson probably lost for the year. Why me? Why anybody?
Here's the Week 17 match-ups: