Oh, hello, all you people.
It's been awhile since anyone has done any sort of update on how things are going in our Yahoo fantasy pool.  And the main update is this:
I absolutely destroyed Sox-Inda-South this week!  Maaaaaaaaaaaaaaaaaaaan, what a beatdown.  The other exciting news is USG dropping the week to Boston Braves...by two points!!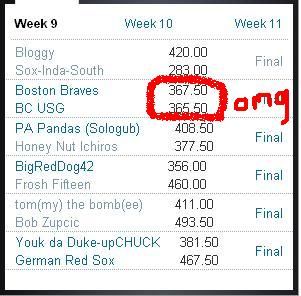 Seriously, yo. That's close. Shockingly, the win was Boston Braves first of the season. Our own personal Houston Astros. *hugs* Here's the current standings after 9 weeks: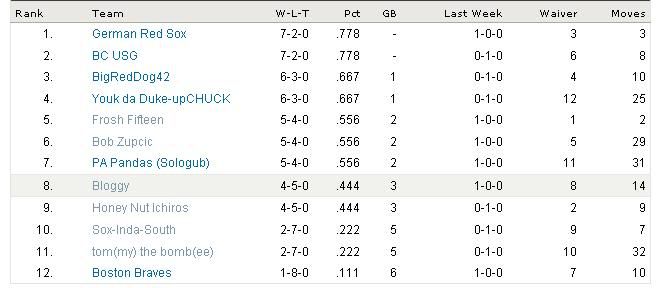 A win by that German fella and USG's loss put them in a tie for first. My mediocrity is shining through as you can see by my current 8th place standing. Here's the Week 10 match-ups: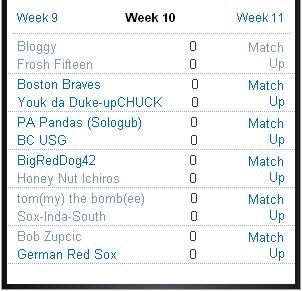 Personal Roster Notes
I decided to try to pad my pitching so I dropped some position players and snagged some pitchers over the past few weeks. I picked up Tim Wakefield just in time for Shaky Wakey to drop a NEGATIVE TWENTY-TWO on me a couple weeks ago (~!!). He rebounded nicely this past week to provide me with two whole points. It's a good thing I love you, Timmeh.
I finally DFA'd Mark Buehrle. Dude...I give up on you. I picked up Jason Hammel instead...I think because of something Radiohix wrote. I can't quite remember. Bard and Buchholz have both been huge for me all season, same as they have the real team. Let's hope for me and us both that they don't blow out The Hope Destroyer's arm.