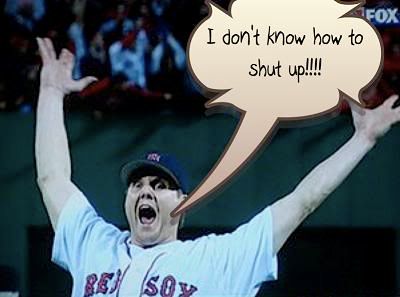 So, I have a confession to make. I'm getting a little sick of Jonathan Papelbon. Yes, our beloved fireball closer. There. I've said it. I've said it, and I feel better for having said it.
You see...they guy just won't stop talking. And when he talks...all he can talk about is how much money he wants. And how much money he's worth. And so he's on a SIRIUS XM Radio baseball show yesterday, and he starts talking about how if the Red Sox don't pony up with the money he wants, he'll go elsewhere...including to the Yankees. Oh, he also said how he'd like to stay with the Red Sox for the rest of his career blah, blah blah. But, yes. If the Yankees drop the cash in his lap, he'd sign with the Yankees in a heartbeat.
Now, there are many who would say that baseball is a business. And those same people would likely say that ballplayers have a small window to make the money they can. And that the teams trade players like cattle, so the whole "loyalty" thing is naive.
But, the thing is that the guy doesn't even hit free agency until 2011. That's two-and-a-half-years. He's talking about signing with his team's arch-nemesis, and he can't do squat for two-and-a-half years.
Perhaps someone should pull young Master Papelbon aside and explain to him that over those two-point-five years that his salary will be funded by the die-hard Boston Red Sox fans that have sold out Fenway Park for the past 500 games straight, and that as such perhaps he should show a little goddamn respect.
Now, don't get me wrong. I was as big a fan of Paps as anybody. I mean, how could I not hold a great deal of affection for this guy?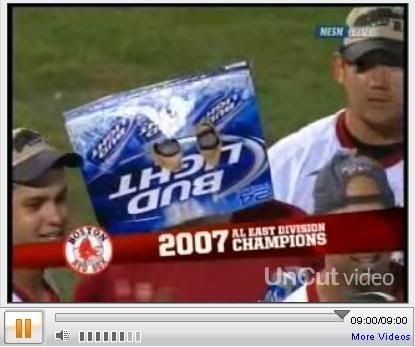 But this bullshit gets tiresome. This isn't the first time this season that Jonny's been quoted running his mouth about how much money he's worth. When the Mets were in town, Paps started spouting off about how closers are under-appreciated and how they don't (he doesn't) get paid accordingly and how teams will spend all this money on getting starting pitching, but boo-hoo the poor closers...and then that night blew a save after his starting pitcher pitched an absolute gem. And I will admit to you that that I smirked on the inside a bit.
I smirked because it really was a karmic moment. You were running your mouth about how great you are, and the forces of the universe put you in your place accordingly. Now those that know me know that I don't actually believe that the universe conspires against individuals thusly, but I do believe that as we wander through life we come across these crow-eating moments...and that they are learning experiences. They are meant to open your eyes and help you gain perspective. I had hoped it had helped Papelbon gain some perspective. Clearly, it had not.
The problem is that Jonathan Papelbon has never met a microphone he didn't like. He can't help it. He loves hearing himself speak. And while early on it was fun because he's a funny guy, now it is not. Because his cockiness has evolved into egomania. It's quite hypocritical, really, when you think back to him calling Manny a "clubhouse cancer" and then immediately following that up with whining about how he's not getting enough money, he's under-appreciated, and he'll play for the division rivals. At least Manny did his best to avoid the press.
There is a phrase for that that we use here in Nova Scotia. It's called "getting too big for your britches". And Jonathan Papelbon is getting too big for his britches. His successes and the adoration of the Fenway faithful has gone to his head and he just lacks the maturity to balance his confidence. It reminds me a bit of Cape Breton fiddling sensation Ashley MacIsaac, who in the 90s managed to take the Canadian music scene by storm and bring fiddle music to the mainstream. Next thing you know, he's saying how much he loves peeing on his 16 year old boyfriend in our national magazine. Ashley was last seen auctioning his career on eBay. I'm not kidding.
Anywho. Paps? We want to love you. But you're trying our patience. Where's that step-dancing goofball we fell in love with, huh?